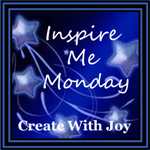 Welcome to Inspire Me Monday
A place to share your creative inspirations
Sharpen your creative vision and
Showcase your creative talents!
I invite you to inspire others and
Nurture your creative spirit by
Joining our Creative Blog Hop!
To participate, simply join my creative community and
Follow the guidelines at the end of this post!
What's Inspiring You This Week?
Here's What's Inspiring Me…

I saw this picture on Facebook and I really find it cute. Protective brothers to their only sister. We are only two in the family, my brother is so protective of me. He always there for me no matter what. It feels good to have a brother who will protect you.

This cat is so cute,I remember my kitty,they have the same color and they are both naughty. I really love cats and dogs. They complete me.
When I was young I really want to have a Barbie Doll but my parents cannot afford it that time. When I started working, on my first salary I bought Barbie Doll and until now It's in my room. One of my favorite possession.
I got this photo from Pinterest and it's soooo perfect. I really love sunrise because for me it means new beginning, a brand new day...a new life, new hope