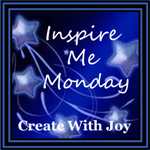 Welcome to Inspire Me Monday
A place to share your creative inspirations
Sharpen your creative vision and
Showcase your creative talents!
I invite you to inspire others and
Nurture your creative spirit by
Joining our Creative Blog Hop!
To participate, simply join my creative community and
Follow the guidelines at the end of this post!
What's Inspiring You This Week?
Here's What's Inspiring Me…
I really want to make crochet slipper, I'm still looking for a good pattern and good design as well

I really want to see Minnie and Mickey Mouse in person, I promise to myself that I will do my best to visit them early next year. I need to save money and I will definitely see them on my birthday.